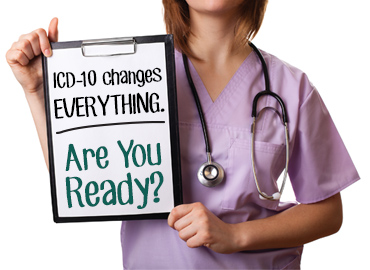 What Is ICD-10?
ICD-10 was the 10th revision of the International Statistical Classification of Diseases and Related Health Problems. It contains codes for diseases, signs and symptoms, abnormal findings, complaints, social circumstances and external causes of injury or diseases.
Find out exactly what it takes to comply with the latest news and training resources.
Prepare your business for all necessary updates with these helpful transition checklists and timelines.
Transition as smoothly as possible with these implementation plans and best practices.
ICD Transition Date
The ICD-10 transition date is October 1, 2015. The government, payers and large providers alike have made a substantial investment in ICD-10. This cost will rise if the transition is delayed, and further ICD-10 delays will lead to an unnecessary rise in health care costs. Get ready now for ICD-10.
Submitting Claims using ICD-10
Practices that do not prepare for ICD-10 will not be able to submit claims for services performed on or after October 1, 2015. Unless your practice is able to submit ICD-10 claims, whether using the alternate methods described above or electronically, your claims will not be accepted. Only claims coded with ICD-10 can be accepted for services provided on or after October 1, 2015.
Transitioning to ICD-10
ICD-10 is foundational to modernizing health care and improving quality. ICD-10 serves as a building block that allows for greater specificity and standardized data that can:
Improve coordination of a patient's care across providers over time
Advance public health research, public health surveillance and emergency response through detection of disease outbreaks and adverse drug events
Support innovative payment models that drive quality of care
Enhance fraud detection efforts
ICD-9 and ICD-10 Dual Coding
Claims with a date of service before Oct. 1 will need ICD-9 codes even if the claims are submitted after Oct. 1
Claims with a date of service after Sept. 20 must use ICD-10 codes.
Medical claims with more than one code set will not be accepted.

A medical claim can either have ICD-9 codes or ICD-10 codes.
More than one medical claim may be submitted.
ICD-10 Coding
The International version of ICD should not be confused with national Clinical Modifications (CM) of ICD that frequently include much more detail, and sometimes have separate sections for procedures. The US ICD-10 Clinical Modification (ICD-10-CM), for instance, has some 68,000 codes. The US also has the ICD-10 Procedure Coding System (ICD-10 PCS), a coding system that contains 76,000 codes not used by other countries.